Thursday, May 19, 2005
The Journey Is The Destination
If you've ever wanted to be an entertainer and had caught yourself casting a moist eye while watching a visiting performer in a concert, then you may find this entry interesting.
I imagine that for most people who watch us, it seems like
Danny, Boboy and I
live exciting, glamorous, easy lives , traveling from one place to another while reaping praises heaped on us by adoring audiences. I don't blame them. To outsiders, they can only come to conclusions based on what they see and that is, APO performing and having a good time in concert, signing autographs, etc. And that's it!
'Ang sarap ng trabaho niyo'
, I have often been told. I agree. I love this job. But it is not as easy at it all seems.
There are so many behind-the-scenes activities that must be taken cared off before we even set foot on a foreign stage. It takes months to plan a tour, and a tedious process to follow up on papers to secure proper visas, plane tickets, etc. There are the rehearsals before we leave and a million other details to take care of. And when we arrive at the destination, things REALLY shift into high gear.
Almost from day one, there are the endless promo visits to Filipino supermarkets, stores, restaurants, beauty salons, karaoke bars, church gatherings, offices, sponsor visits, even law firms, parties---anywhere where Filipinos congregate--- to promote the shows. With all that come an overwhelming dose of food:
kare-kare, pancit malabon, crispy pata, pinakbet, bagoong, lechon kawali, kaldereta, bibingka,
etc. It is not unusual that we end up eating around 6 times a day. At times, we actually feel like we are 'overdosing' on
Pinoy
food and sneak out for a different cuisine!
And there's the endless driving on freeways, sometimes up to 500 miles in one day. That's like going Manila-Baguio and back twice! That also means using strange toilets and if you are the picky kind, this could be a Fear Factor experience. Luckily, none of us are, and it is a credit to the US that there are always clean toilets available. (I think of my American niece Cristina who wonders where all the toilet seats are in Manila since almost always, there are only bowls sans the seats in public toilets!
Oo nga,
where are they indeed?) Airports are something to endure since holders of Philippine passports are deemed to come from a terrorist haven and more often than not MUST go through intense inspection separate from ordinary or regular passengers.
Meeting hundreds of people, posing for countless pictures, (and with the advent of digital, EVERYONE seems to have a camera and wants to take at least four pictures—one with each APO and one with a group ) signing autographs, CDs, engaging in constant talk with people who see you not just as a celebrity (a.k.a. some sort of oddity) but as a direct link to a memorable past they miss so much. All this goes with the job. And all of it is almost always easy if
a) you had a good night sleep the night before,
b) you are feeling great,
c) you are not homesick.
I almost always enjoy this a lot although admittedly, there are times when I'm just not into it. In such moments, I just want to disappear, go somewhere alone and just anonymously fade into nondescriptness. 'Home' is a hotel room where we stay no longer than three days, longer if you're lucky. Living out of a suitcase, planning laundry days, squeezing in a little shopping time, or seeing old friends and classmates can be tricky amidst all this frenzy.
A tour can be a series of small lessons on impermanence. Faces come and go, stage lights turn on and off, and settings are constantly changing as we travel on an open road that seems endless. Amid all this, the only semblance of permanence are the songs we made years ago, and the three of us who continue to sing them.
While I may sound like I'm complaining (and sometimes I am), I willingly go through this for that two hour gig bliss we stand on stage and become one with our audience. That golden chance on stage is what performers definitely live for. Showered with applause and appreciation, I feel wonderfully thrilled like the heavens just kissed us in public!
The long rides and the ritual signing, picture taking, etc. that builds up to show time need not be tedious and boring. During promo tours, I indulge the mystic in me by being present to every moment-- before, during and after the performance. This way, I enjoy myself. Everything in the process becomes important because I go through them with fresh eyes. Nothing has to be wasted or thrown away. Every moment is all there is.
The journey really IS the destination!
Sunday, May 01, 2005
Mio on his own, and my own escape!
I picked up my son
Mio
from the domestic airport a while ago. He had just come from his 1st unaccompanied trip to Boracay and he was buzzing with stories and that irrepressible energy of a young man who has discovered his own power to move in the world. He planned this whole 4day thing with his classmates and even saved up and paid for his room and board. I pitched in with plane tickets. He expressed how much he enjoyed traveling alone, from checking into the airport, riding the plane, taking an hour's bus ride to Boracay and just doing stuff without having to rely on us. He has clearly discovered the path to greater independence and autonomy., and I generally like that. As a parent, I do worry a little about a few things which may get kids in trouble, like bad company, alcohol and drugs. But I know I should take risks in trusting young people to do the right thing. In two months, he will go on an even bigger journey to Oxford in England, and a stint in Paris to take a college preparatory course. He will be gone for 40 days alone in the Europe part of this big, wide world. Ala and Erica took the same thing years ago before college and it opened their eyes to the bigger picture. Besides, it helped them get into the school that they wanted. Mio can't wait!
But before that, he has a few gigs lined up with his band called Bandido. I am amazed at how quickly he has learned the guitar. Lately, he seems to have discovered some of APO's earlier music, and guess what? He likes them! Ha ha! Yes, enough to want to play some of them in their gigs. They also write their own stuff and that's something I give them credit for. I am quite excited to see him spread his wings and make a mark in his milieu. And you should see him before and after a gig!
Parang di mapakali
, just like his dad, or at least that's what his mom says.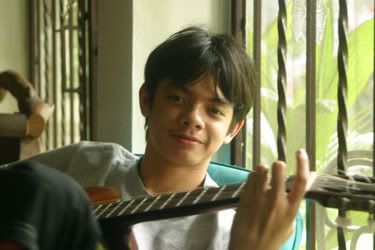 I talked to him recently about college and he has expressed great interest in taking up music. I never even gave the remotest consideration to going for music in college because I was on scholarship at the Ateneo and it didn't (and still doesn't) have a music course. And to have had to go to any other school then, and in the process incur expenses for my hard working mom and step dad was just out of the question. As a parent now with a little more means, I will support as much as I can the directions where my kids wish to find their passion.
If Mio does go into music, he will outdo his father in at least one thing: he will be able to read and write music—something I never learned to do. I tried learning it before but it slowed me down considerably. I guess I just got too used to making music intuitively. Maybe someday I will take it up again. But if by next year Mio decides to take up something else, it will be no big deal to me. The time to indulge in a little confusion is during youth when it is expected and one has the luxury of time to do so.
***
I leave on Wednesday for
APO's second leg of its US tour
. This blog may be quiet for sometime since I do not always have internet access when we tour. But APO's page will be full of updates so watch out for that. And if you are one of those who will want to buy souvenirs, we have something even better this time around: DVDs of past milestone concerts, buttons, and more CDs.
I must admit I will be happy to escape the summer heat, the discomfort and the palpable discontent that's evident everywhere due to the high cost of gas, electricity and all the other irritations that plague life in the Philippines. Add scandals like Pacific Education Plans and CAP not living up to their end of the contract. I pity the parents who unexpectedly have to scrounge for more money now to keep their kids in school. On top of that, the idiocy and the sleaze of ABS-CBN and GMA TV shows and the passionate efforts of our political leaders in insuring that meaningful changes do not happen in our lifetime make it so pleasant to leave even for awhile. I was so sorry and angry to see Haydee Yorac leave PCGG, and Victor Corpus retire from government. Man, I could go on and on. OK, I know I am betraying my calm and my attempts at maintaining a non-judgmental stance in most things. Don't worry. I am not about to turn this blog into a political forum. We all just need to vent from time to time, don't we?
Heard a quip from Jon Santos: He says that in the US, Michael Moore made an anti-Bush film called Fahrenheit 9-11, Sometime soon, someone in the Philippines will make an anti-Gloria docu called... are you ready?...
Fahrenheit 4-11!