Monday, March 28, 2005
Pinoy Power, Eternal Eden, etc..
Even for someone who's been at it for 36 years this year, March 20 at the Cache Creek casino was super fun. The lights were magnificent, the sound system clear as a bell, the band tight as a fist, the audience of 1,800+ filled to the last row, and the three of us in great form, substance and playful spirit. It was a night every performer wishes for and remembers for a long time. The enthusiastic crowd which included some of our classmates watching us for the first time since we were still wannabes at the Ateneo college quadrangle gave us a reception to die for.
Filipinos are very valuable clients at most casinos, especially at Cache Creek. Like the Chinese and Vietnamese, we love games of chance, and as a recognition of how much management cares for Filipino patronage, you can find
Tapsilog, Kare-kare, Adobo
, etc. on the menu together with the usual bland continental and American dishes offered. Indeed,
Pinoy
power was evident that night as we showed up in droves outselling Jay Leno, Joe Cocker Kenny Loggins, etc. who performed there the previous weeks. Gary V. and APO probably hold the box office records for shows there. It was no surprise to us then that we were wined and dined like stars even as the casino management offered us a return engagement in the next months.
Portal to Oneness
--Flew in from San Francisco on the 23rd of March to catch another plane to Davao where my family was enjoying the beach at Island Buenavista. With jetlag and exhaustion, I arrived in Davao and spent the next 4 days unwinding. It was one night of restful, healing sleep on a Balinese bed fronting the ocean in the island, and three cool, magical nights at the Eden Mountain Resort near Mt. Apo. In the daytime, we drove on little golf carts through the pathways that opened to forests, spice and flower gardens, fruit orchards, meditation areas which rejuvenated my tired body and cleared my overactive mind.
Finding oneself amidst giant, ancient trees and ferns and the magnificence of nature can give a sense of belongingness in this universe. I was, to speak in zen prose,
one with everything
. As narcissistically urgent our needs may scream at times and demand to be met, there are moments when something else arises within us. In one such moment, I sensed a 'melting away' of myself as it seemed it was only Oneness that existed in the middle of Eden. The quiet trees, the stillness of the evening, the bright moon that reflected on the puddle of water by the path and down the Davao sea visible from the top of Eden only proved that Oneness, the Christ, Allah, God, Goddess, Brahman, Atman or any other name we want to use to refer to the experience of complete integration, permeated everything. In the end, there was/is only Oneness, and the experience of it confirms that we are everything, and everything is us. Or as a Hindu would probably describe it, "Thou art That!" Like the few fireflies that glowed, I beamed quietly knowing that the zen I met at the mountain top could only have been the same zen I brought up. (Cosmic giggles at the thought of that!).
Here's something from poet William Blake who must have tapped on the same eternal Onenness two centuries ago.
To see a world in a grain of sand
And heaven in a wild flower
To hold infinity in the palm of your hard
And eternity in an hour
---
Cherry of LA
The next leg of the tour is a few weeks away. Already, even more tours are being scheduled after the May to mid-June one. I really enjoyed this last brief one. Aside from performing, I was able to indulge in some serious photography in LA. Jen Santillian of Kewlit Co. gave me access to her family studio in West Covina where I took portraits and stuff. We are scheduling more when I come back and we are throwing in a photo exhibit when APO performs on May 7 at Knotts Berry Farm. Can't wait!
Wednesday, March 16, 2005
Can it get better than this?
Boboy, Danny and I walked with jaws dropped and in awe as we gazed at the walls of the corridor leading to our spacious dressing room at the Sycuan Casino Theater in San Diego. There on the walls were pictures of some of the idols we adored when we were still very young performers---the Kingston Trio, Smothers Brothers, Doobie Brothers, Little Richard, Smokey Robinson, Frankie Valli, Manhattan Transfer, among others. Their posters were signed and displayed there. What a thrill it was to know that we were now going to perform on the same stage the two sold-out nights of March 10 and 11, 2005. Who knows, maybe next time we come back, our poster will also be displayed there!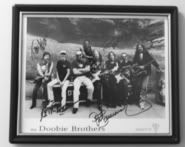 The Doobie Brothers!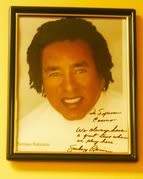 The Great Smokey Robinson
I normally do not enjoy staying at casinos. They are almost always noisy places, and there's too much smoking. Also, I don't have the slightest interest in games of chance. But Sycuan was exceptionally pleasant mainly because our rooms were 5 miles away from the gambling area and surrounded by open air and a golf course. There were flowers and trees, walk ways and pathways and the nice California sun to enjoy. The accomodations were big, comfortable with living rooms for guests. And I had one all to myself!
A big surprise for me on this trip was that after the shows, I was able to get people interested in buying my books which we sold together with the APO CDs we brought! A casino after all seems to be the last place to read any of my writings. At least, that's how it seems to me, ha ha!
The two shows went extremely well. The theater had excellent sound and lights. And it's always great to be working with the best. Our musicians from Manila, Boyet Pigao, Ernie Baldjay, Noel Santiago, Colby Dela Calsada, JD Villanueva are seasoned and very able players who have been with us on many tours and recordings. Our lighting director Mike Rodas, now a resident of San Diego is, (to borrow a Smart line), simply amazing! Just take a look at that picture of APO below and see for yourself! Butch Dans, our sound guy and manager for the 1st leg of the tour is awesome even as he doubles as sound engineer. And Sammy Samaniego, assistant, road manager, photographer and all around trouble shooter is irreplaceable. The APO couldn't have been more blest!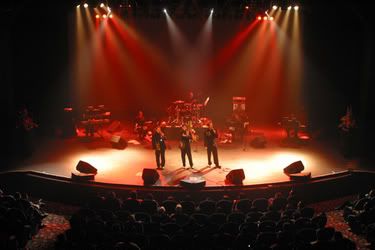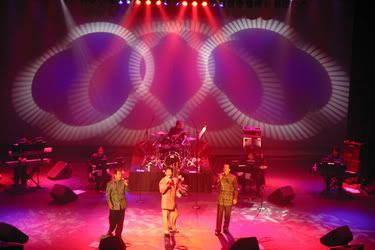 Galing mo, Mike Rodas!
For this tour, we 'untangled' many of our hits from medleys where they had been 'trapped' in for years, and did them as stand-alones. It was fun since they sounded new to us again. And it was great that the audience lapped it up. As an artist who does his own material, there's a lot I can say about our
kababayans
overseas. They have been, in m my opinion, one of the greatest supporters of OPM these past many years. Where people in the Philippines are getting daily, large doses of American Pop and expecting to hear their performers sing like their American idols, the overseas
Pinoy
wants
the Filipino experience
, which means the OPM songs they knew and loved when they were back home.
And when they like the entertainers, they really show it not only during the show but also after. We are always showered with gifts as a sign of their delight and gratitude. It isn't uncommon that we come home with t-shirts, pants, jackets, caps, banners, souvenirs, CDs, candies, chocolates, even medicines and vitamins from doctors, nurses who can get them free from hospitals. They also host golf games for Danny and Boboy, feed us at restaurants and their homes, give discounts to us in stores and services where they work or which they own. During the last tour, I had three free haircuts, plus bottles of shampoo, conditioner, and other stuff. To put it mildly, Filipino hospitality is unbeatable, for the simple reason that it is sincere and heartfelt!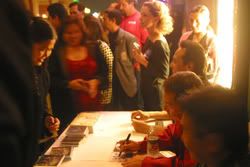 Mabuhay Ang Pinoy!
By tomorrow, I leave for Oxnard to stay with my sister and then do our Sacramento show at the Cache Creek Casino on the 20th of March. To perform music we make, and bask in the joy that the songs bring to people. Tell me, can it get any better than this?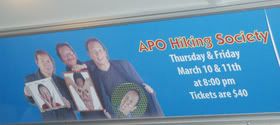 We're on buses!
Monday, March 07, 2005
Journeys, Memories and Meeting 'my Pilot'
One of my dreams as a young man many moons ago was to able to travel to other countries. I was always fascinated with the exploits of Marco Polo, Ulysses, or even the tales of any relative who had gone to strange parts of the world. The lure of other lands was/is so strong that foreign accents actually excite me. Little did I know then that years later, I would be doing A LOT of travel.
I'm off again this Wednesday for three shows in California with
APO
. I will be back Holy Week for about a month and then return to the US for even more shows. After that, there is the big possibility of taking a short trip to Jakarta for a quick one before leaving again for 4 more concerts in the Middle East. Hopefully, from there we can connect to a few more shows in Europe since we are kinda near already. If I sound like I'm bragging, …OK, I probably am. Please forgive me since every trip really excites me. Having a ticket on hand is like an open-ended invitation to adventure.
I have been to every continent except the North and South Poles. But there are still many places unexplored. I would still like to go and see both the decadent but fun Rio and Sydney Mardi Gras, visit Egypt, Mexico, Cuba, Costa Rica, Morocco, Machu Pichu, return to India, Russia and Nepal. I like the slightly or very off-the-beaten-track destinations. Next to what I have now, one of the best jobs I can think of is that of Discovery Channel's intrepid Ian Wrightl. Man…to go to exotic places, eat strange food, meet people of other cultures and rough it up is my idea of fun. But I still will insist on decent toilets though! Ha ha! Can't wait.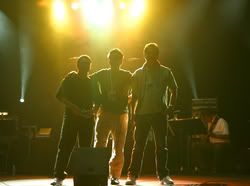 --I found a box of old betamax tapes and through the aid of a friend who lent me an ancient beta player, I was able to watch old footages of my kids growing up, APO's earlier years, and other family stuff.. Sigh! I saw Erica and Ala who were 8 and 4 years old then running, biking and shouting around the garden like there was no tomorrow. How time flies!. It's hard to imagine although you know it as fact that people do grow up. And the older ones even die. There was precious footage of my deceased beloved mother-in-law singing 'I just Called To Say I Love You' which made my dad-in-law teary-eyed yesterday when I showed it to him.
I viewed some of APO's tapes which were some 20 years old. The performances that I felt then were not so good turned out to be surprisingly much better than what I had anticipated. Those that I thought were terrific were just so- so. It's more fun to watch the routines and shows that I had already forgotten probably because I can appreciate them now without any preconceived notions.
I speak for my generation when I say we didn't have that many pictures growing up and absolutely no video footage of our childhood. I guess that's why my memories of youth are more golden since my mind has 'rearranged the furniture', so to speak, processing, tweaking, highlighting certain things admittedly at the expense of others and making more sense of the 'movies in my mind' now as an adult. These days, technology is so all-pervasive such that one can literally be conceived, born, live all the stages of life, die, get cremated or be buried and be totally filed, recorded, shot, documented all throughout! That's why it's interesting to ask or speculate on which can better tell the story of a life--- the impressions of poetic memory or literal chronicles? The first one has the power to create myth while the other because it is literal has the power to kill it.
--
I always entertain the thought, especially before a trip that anything, including the unforeseen can happen--- or to be morbid about it, I could die in a crash or whatever. After all it happened to my dad. He died in plane crash with the late President Magsaysay at 42 years old while coming home from Cebu. To be honest, the prospect of death by itself does not really strike fear in my heart. It's the thought of leaving my loved ones behind to fix and clean up after that concerns me more. Anyway, should anything happen, among my
bilins
is that this poem be one of those read at my wake. When I first came across this in high school, I was just so drawn to it that I have even been reciting it to myself occasionally since then.

Crossing The Bar
Alfred, Lord Tennyson

Sunset and evening star,
And one clear call for me!
And may there be no moaning of the bar,
When I put out to sea,
But such a tide as moving seems asleep,
Too full for sound and foam,
When that which drew from out the boundless deep
Turns again home.

Twilight and evening bell,
And after that the dark!
And may there be no sadness of farewell,
When I embark;
For tho' from out our bourne of Time and Place
The flood may bear me far,
I hope to see my Pilot face to face
When I have crost the bar.
If I don't meet my pilot yet (a likely but not guarranteed prospect), I shall be back with more stories!
Tuesday, March 01, 2005
Frodo, Ninoy, Rizal, Luke Skywalker, you and me...
(Due to requests, I have changed my commenting service to allow permalink. Thus ALL previous comments have been erased. Such is life. Oh well. Let it be a tiny lesson in non-attachment).
From Frodo, to Ninoy, to Rizal, to Luke Skywalker, to Gautama Buddha, to Jesus, and yes, even you... everyone, according to Joseph Campbell, one of my favorite reads, takes
the journey
.
The Hero's Journey is an archetypal pattern that forms the underlying structure of every story ever told, including the story of our own lives. This universal pattern illuminates the stages each individual must go through in order to grow. It is a journey of personal evolution that every human being can identify with.
Below are the stages people cross. We may skip stages or linger. Where are you in your own journey now?
Stages of the Hero's Journey
1. The Ordinary World
The Hero's Journey starts with a snapshot of you, the Hero, in the Ordinary World, not fully satisfied with some part of your life. Despite the external success you may -- or may not-- have achieved, something is missing from your life. At fault are the limiting assumptions, negative beliefs, bad habits, and unchallenged fears you hold about yourself and the world. They affect your career and relationships, leaving you unhappy, angry, anxious, closed down, or depressed.

2. The Call to Adventure
Somewhere inside, you know that a bigger life awaits you. You dream of being successful, joyful, unlimited and free. This is your soul's cry to be recognized, and your heart's longing to find and follow your bliss. Absolute freedom, unlimited possibility, pure joy and unconditional love await you.

3. Resistance - Refusing your Calling
Refusing your Calling When you focus on the price tag of living your dreams instead of the potential benefits, you naturally feel reluctant to jump in. No matter how uncomfortable you are now, at least its familiar. Venturing out into the unknown is too scary. So you end up staying exactly where you are.
4. Outrage - The Straw that Breaks . . .
A painful, pivotal event occurs. You are "called out" by the universe and watch helplessly as the house you have carefully built burns down. Now you can no longer allow your fears, wounds, negativity or bad habits to control your life. You cannot accept the greater price you are paying to your spirit. Finally, you say "Enough!"
5. Committing to the Journey
This is the moment you fully commit you yourself. You say goodbye to your Ordinary World, firmly choosing to face your fears and answer your Calling.
You cross the first threshold: Separation from the Ordinary world.

6. Challenge and Adventure
Your commitment opens the door to new and unexpected adventures. You encounter allies and worthy adversaries who challenge your preconceived notions, judgments and ideas about yourself and the world. You discover that you are not who you thought you were; you have separated yourself from others and abandoned your true self. Who are you then?

7. The Heart of the Storm
Descending into the innermost cave of your fear, you drop your masks and face your inner demons. You are determined to allow the image of you to die so that the real you can be reborn.
You cross the second threshold: Initiation and Transformation, Death of the old identity and birth of the expanded self.
8. The Resurrection
The truth of your existence is revealed. You finally feel what you always knew -- that you are whole, unlimited and connected to the universe. Now you are finally at peace with yourself. But you don't want to be a "monk on a mountain." You must return to the Ordinary World to put your spiritual transformation to the test.
You cross the final threshold: Return and Integration back into the Ordinary World.
9. The Rewards
You return to the Ordinary World free of your limiting masks and beliefs. This is the life you have always wanted. Joy, success and abundance radiate from you as a reflection of your own magnificence. The universe responds as it always has --unlimited and unpredictable-- but you now stand ready to recognize and fully receive its gifts without shrinking back.
10. Life Purpose
With your struggle over, you can now focus on what you want to give instead of trying to get. Your service to the world is an expression of your overflowing fullness, not from any need or expectation. No matter what you choose to do, it is the quality of heart you bring to it that reflects your mission. As you let your own light shine, you inspire others to do the same. This light is what you are here to give--your life's purpose.
11. Taking the Journey-
The HeroQuest Adventure
The Hero's Journey above is just a model. On the HeroQuest Adventure, each person's journey is unique and reflects the real challenges in your life as they appear to you. Above all, the HeroQuest is about saying yes to yourself, and to your dreams. It will challenge you to give up the illusion that you are separate and insignificant, and support you in becoming more fully alive and more effective in the world. It is not just about uncovering deeper truth of who you are, but about having the courage to act on that vision. This new vision will propel you on yet another hero's journey at a higher level than the last, with new treasures and deeper transformation.
I give credit to
HeroQuest
, an inner discovery workshop cum travel for tis simplified summary of Joseph Campbells's
Hero's Journey.
To my former students at the Ateneo, I hope this brought back memories of our classes. ha ha! If you liked this, get
The Power Of Myth.
It's Campbell's easiest book to read. It's in Q and A style as interviewed by Bill Moyers.