Thursday, December 30, 2004
The year that won't go quietly...
Here is part of an email I wrote two days ago to an egroup I belong to. I wish to share it with all of you.

We use email often for banter, light talk and at times for serious political discussions, and to express our indignation or just to vent out. Let it be different today for me. Forgive me if this letter seems dramatic. Believe me, it is heartfelt.
The tsunami-earthquake double whammy has created a disaster of unparalleled proportions. I've been riveted in front of CNN, BBC and the internet trying to understand what has happened and making sense of the picture that is still emerging. I have been trying to understand it in scientific as well as in economic, social, human, emotional, even cosmic levels to try and fathom what kind of response is appropriate but instead, I just catch myself totally overwhelmed by the cataclysmic dimension of it all. Thirty three thousand dead and still no final count in sight.
Lately, I've been doing the same thing with Infanta, Iraq and other places where human tragedy has been widespread. I have caught myself in tears, praying and sending good healing thoughts and hope to people everywhere, and materially contributing in some way to the effort to try and alleviate suffering at least where it is physically closest to me-- Infanta and the desperately poor that I personally encounter. Last night, I felt such a heaviness in my heart about how tragedy seems to happen so easily and how the mustering of kindness (relief efforts, donations, etc..) to respond to it is such a gargantuan effort. I had a hard time sleeping.
Today, I came across a poem on the net which I wish to share with you.
Kindness
Naomi Shihab Nye
Before you know what kindness really is
you must lose things,
feel the future dissolve in a moment
like salt in a weakened broth.
What you held in your hand,
what you counted and carefully saved,
all this must go so you know
how desolate the landscape can be
between the regions of kindness.
How you ride and ride
thinking the bus will never stop,
the passengers eating maize and chicken
will stare out the window forever.
Before you learn the tender gravity of kindness,
you must travel where the Indian in a white poncho lies dead by the side of the road.
You must see how this could be you,
how he too was someone
who journeyed through the night with plans
and the simple breath that kept him alive.
Before you know kindness as the deepest thing inside,
you must know sorrow as the other deepest thing.
You must wake up with sorrow.
You must speak to it till your voice
catches the thread of all sorrows
and you see the size of the cloth.
Then it is only kindness that makes sense anymore,
only kindness that ties your shoes and sends you out into the day
to mail letters and purchase bread,
only kindness that raises its head from the crowd of the world
to say it is I you have been looking for,
and then goes with you every where like a shadow or a friend.
This poem just says it for me. While this year seems to refuse to go quietly into the night, I know that each one of us can put an end to SOME suffering. I am learning to stop cursing the darkness and fight the cynicsm of helplessness and victimhood and realizing that there is something I can do. I suggest nothing concrete except to open our hearts to the bigger reality that is other people, in fact, that is the rest of humanity which I am very sure are also parts of ourselves we just have to meet. When they cry, do we not cry too? When they suffer, do we not also suffer? I know we do rrecognize ourselves in them, and them in us.
We stand before one of mankind's most dramatic opportunities to understand and experience oneness. I KNOW I am you and everyone else! I am writing because I am just so humbled to get a fleeting glimpse of this great Truth which seems so evident only on occasion. Each of us, if we just listen already knows what to do.
Jim
Friday, December 24, 2004
Pasko na!
Sanggol na mahiwaga narito na

At dala Niya ang ating pagasa

Tanggapin natin ang Kanyang pagmamahal


--Sanggol na Mahiwaga, PaskonAPO!



To those who visited this blog and to all those you love,

Maligayang Pasko!
May you enjoy the season's best from all of us!

Jim, Lydia, Erica, Ala, Mio, Ananda
Friday, December 17, 2004
Simbanggabi, Infanta and Vienna Yuletide!
Simbanggabi at the Gesu in Ateneo is such a delightful experience. The church is beautiful, the homilies are good and inspiring, the singing is heavenly, and the Ateneo grounds are decked with lights so attractive people hang around and sit on the Bel field eating bibingka and putobumbong and chatting after. The crisp December air adds that touch of Christmas every Filipino has grown to love. Please catch this if you live near the area. If you don't reside near here, it's worth the drive.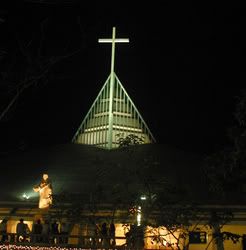 The Gesu!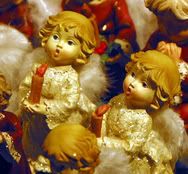 The singing is heavenly!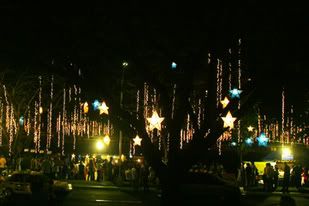 View from the church



If there's one holiday that's imbedded in the Filipino genes, it's Christmas. Every overseas Filipino aches for home every Pasko. It's their saddest time every year of their life abroad. This I've gotten to know after talking with many of our kababayans during trips overseas. So make sure you call or write all your friends and relatives overseas this season and let them know what they're missing. ha ha!!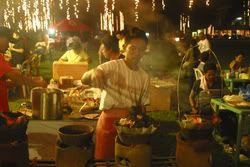 Fresh bibingka!!!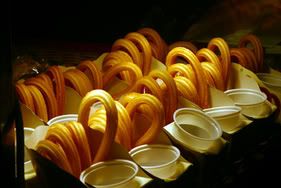 May churros na rin!!

* * *
Tired of the holidays? The last few Christmases, I found myself too stressed out chasing gifts, attending parties, doing shows that by Christmas night, I just felt too tired and wished the season was over. This year, I have not bought a single gift yet and will not stress out to rush and buy them. Neither will I stress out and attend all the parties that beckon.
* * *
Do They Know It's Christmas in Infanta?
Aside from attending as many Simbanggabi that I can, I have vowed to help in the drive to get the Infanta people to enjoy a semblance of Christmas. I recently read a heartbreaking account of life by a priest who administers to his flock there. It's so ghastly and pitiful, to put it mildly. I have started my own Christmas drive by urging friends, classmates and everyone to donate food, clothes, medicines, monies to the different Infanta charities. I have made my house a collection center. You can drop by and leave stuff here and I will deliver them for you. If you are interested, write me a note with your email at the comments board and I will get back to you.
* * *
Lastly, I would like to leave you with pictures of Christmas in Vienna. While we were there, the city was already decked with yuletide cheer--- lights and all.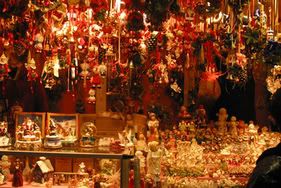 Shopping for Christmas decor? Magsasawa ka!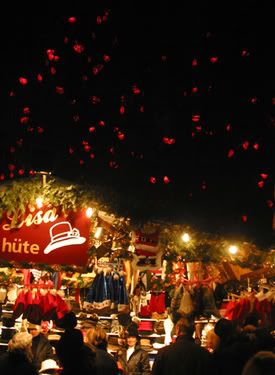 Yuletide spirit in this shopping area in front of Rathaus!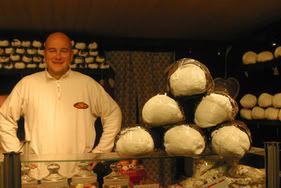 Forget Vienna sausages. Look at these chocolate covered marshmallows!

Ganda no? Enjoy!
Wednesday, December 08, 2004
notes from a tour..
Technically, winter begins on December 22, 2004 but already it is bitter cold everywhere. Switzerland is pretty and picturesque, breathtaking even, but one must wear at least four layers of clothing to walk around and see the sites. It seems the only times we are not wearing coats, overcoats, thermals, scarves, sweaters are the times when we are asleep or doing shows. And the shows are wonderful so far.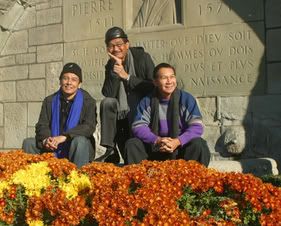 Danny, Boboy annd I enjoying Geneva.

For the first one, we had an overcapacity crowd in Zurich. Despite the sound system which kept breaking down, the show went quite well. In Geneva, owing to some internal problems with producers and partners, we did not have a full crowd, but still it was a decent sized one. The theater was pretty but rather unorthodox. From a very narrow stage, there was a 30 foot drop to the orchestra seats. If you were seated in orchestra, you had to look up perennially to watch the show risking a stiff neck. From the performers' end, it was scary to look down on what seemed like an endless abyss. After 35 years of performing, we thought we had seen everything! The lodge and balcony seats were much better though. Again, the people more than compensated for everything by clapping lustily after every song and warming the room much to our delight.
Amsterdam was our next stop where APO joined the rest of the troupe (Nanette Inventor, Geneva Cruz and Angelique Lazo) whom we would be performing with in 4 of the 7 cities in this tour. Despite the very damp weather, the biting cold and the endless traffic, Amsterdam still had its charms. It's hard to imagine any other society in the world that can surpass the Dutch policy of tolerance and practicality especially on issues like sex and drugs. As many of you know, prostitution is legal (though pimping is not since that is correctly seen as slavery), and soft drugs are sold in cafes. I was a bit shocked to read that years ago, the minister of health approved an ad for primetime TV with showed a young teen couple kissing and masturbating at the same time to inform the youth that one could get orgasm without penetration. It was a bid for the prevention of unwanted pregnancy and the spread of STD.
This society had long ago dealt with some of the questions that the rest of the world are too ashamed to come to terms with. But has this tolerance benefited their society? Studies show that drug related crimes are so low compared to France and other European cities. And so are unwanted pregnancies and STD. Yet, there must be some social drawbacks though I confess I don't know what they are.
Amsterdam is also a haven for political refugees. Danny and Boboy had breakfast with Pinoy communitsts Joma Sison and Fidel Agcaoili in our hotel. Lydia and I opted to see the van Gogh museum instead with the little time we had left.
Our Amsterdam show was loud and boisterous. The 4 performers brought the house down. Before 2,400+ kababayans, we rocked the place despite the meager lights and sound system provided for us. We were lucky it did not give way though we weren't sure if we could be heard at the back of the sports complex.
With hardly any sleep, we left early morning the next day to go to Rome for a show that same evening. And with no time to do a sound check, we went straight into the show. Rome is a tricky place for concerts and I can understand why. Pinoys have been fooled so many times by unscrupulous promoters who had promised to deliver this and that artist but have only ended up taking their money and disappearing. We were lucky to get a 70% crowd who sang along with us with every song and clapped with every beat. Kababayans, lonely for the Philippine experience were only too happy to show it with loud singing, waving, boisterous laughter and lusty applause as we showered them with hits and gimmicks. It was a memorable night, to say the least.
Vienna was wonderful and magical. Not only did we have a GREAT show, the people we met and the beauty of the city itself will make it hard to forget. After the well-attended concert, we visited the Schonbrun Palace again and was still awed by the splendor, majesty and sheer extravagance of royal life. Then there were the other sites---the Rathouse, Stephan's Platz, and others. This is a city that definitely deserves a few more visits in the future.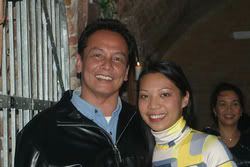 Me and Dimpz, an occasional visitor in my blog!

We flew into London Monday, November 29 ahead of the troupe to spend a few days sightseeing. We wanted to spend three days of R&R before leaving for Denmark. On the night we arrived, we went to see We Will Rock You!, a West End musical revolving around the music of Queen, and what a show it was. This is a must-see! I give it two thumbs up for its imaginative story and execution. And who doesn't love Queen music?
Copenhagen was, as the old Danny Kaye song goes, "Wonderful! Wonderful!" We walked through the biting cold and saw the statues of Hans Christian Andersen and the famous Mermaid by the sea. The city was already decked with Christmas décor and so it was quite festive despite its very short days. There must have been not more than 6 to 7 hours of sunlight. But what made Copenhagen very memorable were the people we met, our producers and our audience who showed us how much they appreciated our music. We just really loved our performance there.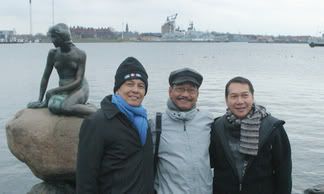 APO with the famous Mermaid! Notice that she is so naked while we are all wrapped up.

The next day, we flew back to London for our last concert at Wembley Grand Hall that evening. The tube (subway trains) were being repaired that day and so did not stop at the station most convenient for concertgoers. Sayang. We must have lost a lot of walk-ins! The concert was fun except that we were all under time pressure since Wembley closes the its theaters by 11 sharp. We had to cut a few numbers and speed up on some but it was still OK.
I am now back home sitting on my favorite chair with my computer on the desk as I write this. All in all, it was a great tour but I am really happy to be home. It's tiring to live out of a suit case and I think Europeans smoke way too much! Also, it's a relief to stop converting money every time I purchase anything specially since the dollar is so low these days.
Work starts again tomorrow for a Christmas program we are doing the next day. Then more work the following days! Haaay! Can't wait for the next tour to get away from it all again!