Monday, October 25, 2004
Her Happiest Moment...
Yesterday, October 24th at 2:45 AM Eastern Time (2:45 PM our time) Maricel Quintos, mother of two daughters, loving sister and daughter, in law and friend to many, passed away quietly at room 417, Trillium Health Care Hospital in Missisauga, Canada.
<>I made two postings in the past about my meeting up with her again after a 29 year interregnum. I pondered on this fact yesterday during mass as I tried to cull the significance of our connecting again. We were not really close in the past but perhaps it's because I am more awake to cancer due to
Lydia
's recent bout with it that I was so taken by Maricel when I saw her in a party in
Toronto
during the
APO
tour.
>
The most endearing part of her was her calmness and acceptance of her cancer which at that time had caused the doctor to tell her she only had a few months to live. As a testimony to her composure in the face of impending death, she had done the chilling but neccesary task of making preparations with the funeral home at the onset and preparing her family for the inevitability.
She meant to come home and have a last visit here but plans changed when she suffered a nose-bleed and fainted and was rushed to the hospital 9 days ago.

In one of our last conversations a few months ago, I remember speculating that maybe we the living have it all wrong by grieving when we lose a loved one, but to the one who is dying, it could be the happiest moment ever since they will finally get to see God. She smiled and said she was sure that it was so!

Maricel Quintos in college!

We will miss you Maricel. But the love and warmth you left behind will not only linger but will be passed on. In the end, only love is real. While you did not live long enough to see your grandchild who is still to be born a few months from now, your joy at being with God is comforting to us who are left behind.

This entry is a tribute to this woman of substance (as I like to call women with cancer) who lived and died with grace and with the dignity of one who knew when and how to let go.

(As a habit, I say a quiet prayer for each and everyone who dies whether I know them or not. Even if you do not know her, a prayer for her would be appreciated. Thanks!).

Friday, October 22, 2004
Talks, Morning Sun and Pop Spirituality!
OK. I know I've been remiss in writing on this blog. Been REALLY busy. In the past twenty days, I had to prepare so many power point presentation for the talks I've been giving. They're mostly about creativity which is a topic I am very awake to and always excited about. Three days ago, I had to make a variation on this theme for the Pioneer Life Insurance company. I gave two talks for them entitled Dare to Dream, Dare to Lead where I used my creativity set of rules to discuss leadership.
Yesterday I talked before the Asian Music and Marketing Conference. I gave a sweeping history of OPM (Original Pilipino Music) and what in my view we must do to make our mark in the world. It was quite controversial because I had to sort of step on toes of some of the pillars in the music industry. But things must be said. More on this interesting topic in my next blog.
Tomorrow, I leave for Cebu to give a talk on creativity for Glaxo, a pharmaceutical company. It seems that many companies who want to keep relationships with important clients (like doctors if you're a pharma company) have discovered that inviting people to talks that have little to do with the trade but a lot to do with personal growth is a good come-on. We all know that man does not live by bread alone. His spirit must be nourished too. And creativity or the power to feel alive, animated, connected and interacting with the universe is a great way to do it.
---
Been waking up early these days for no reason. I just catch myself wide awake before 7AM. I can't help but notice how wonderfully warm and rich morning sunlight can be at this time of the year. I try to look for subjects to take pictures of. Luckily some people are also awake at this time.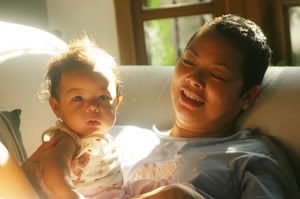 Princess and the Empress enjoying the morning sun!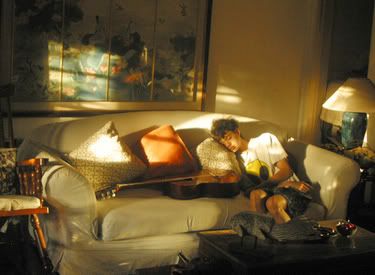 Mio stealing some more sleep in between waking up for school and waiting for beakfast!

---
I get to read a lot of cool stuff from coolmel who writes a blog listed among the links at the side of this page—Blogging with Passion and Compassion. See it? Here's something I got from him. Wanna if you're spiritual or not? Take the Time magazine pop quiz and tell me your score. But be aware that it's ONLY a pop quiz.
http://www.time.com/time/covers/1101041025/quiz.html
<>
Enjoy the weekend!
Friday, October 08, 2004
Work, Halo-Halo, Mystics and My 4th One!
I've been working like a dog!
During the past week or so,
APO
did four shows, three of them in Manila, one out there in Tiwi, Albay. I also did a keynote talk in
Baguio
for the big PMAP (Professional Marketting Association of the Phil.) meeting. I have also
been working every night preparing my power point presentations for the ten talks I will be doing
before I leave next month for
Europe
. I can't believe how busy I am thes days! As a result, I have not been getting enough sleep and that's a bummer. The only way my body can feel good without sleep is if I go to the gym.
Oh, and before Europe, I will be going on a 4 day trip to
Jogjakarta, Indonesia
to attend to my duties as board member of the Ramon Magsaysay Awards Foundation. We will be meeting with awardees from all over
Asia
in a seminar to discuss the elusive topic of Peace! That should be enlightening. And yes, I will have 1 day of touring the temples of Burubudur!
During my last tour with the RMAF, we went to
Cambodia
and I fell in love with Angkor Wat.
Jogjakarta
is something to look forward to. I love exotic places.
Here's a secret I picked up from my short trip to Albay. The best
halo-halo
anywhere in the Philippines can be found there. It's prepared in a canteen inside the Unocal Compound (Phil. Geothermal complex). It's such a well-guarded secret that no one is ever allowed inside the kitchen. I brought home 10 frozen ones back to Manila.
Sarap!
I can't really tell exactly what makes it delicious but it is!. Word has it that the chef of a prestigious French restaurant tried to copy it but without success.
***
The other day, a friend of mine sent me a bunch of quotes from one of my favorite mystics, Anthony De Mello, SJ who has a wonderful way of blending eastern and western spirituality. It still behooves me why the Vatican issued a caveat against his writings. In my view, he is a true spokesperson of the Great Borderless One. Read below some of his works:
Affirmation
A woman in great distress over the death of her son
came to the Master for comfort.

He listened to her patiently
while she poured out her tale of woe.

Then he said softly,
"I can not wipe away your tears, my dear.
I can only teach you how to make them holy."
Intoxication (Celebration)
"What would spirituality give me?"
said an alcoholic to the Master.

"Non-alcoholic intoxication," was the answer.
Listening

"Every word, every image used for God
is a distortion more than a description."

"Then how does one speak of God?"

"Through Silence."

"Why, then, do you speak in words?"

At that the Master laughed uproariously.
He said, "When I speak,
you mustn't listen to the words, my dear.
Listen to the Silence."
Charity
<>
Charity is never so lovely as when one has lost consciousness that one is practicing charity.

"You mean I helped you? I was enjoying myself. I was just doing my dance.

It helped you, that's wonderful. Congratulations to you. No credit to me." --
<>
Emptiness
Sometimes there would be a rush of noisy visitors
and the Silence of the monastery would be shattered.

This would upset the disciples;
not the Master, who seemed just as content
with the noise as with the Silence.

To his protesting disciples he said one day,
"Silence is not the absence of sound,
but the absence of self."
If you can get a copy, read his book Awareness. It will change you.

***
Very slowly but rather surely, progress on my fourth book is proceeding. But to keep at it, I must get back to doing my sits more regularly. I have been remiss lately.I must do meditations daily as I used to so that I can access my subject matter more easily. This means I must resist the lure of mindless TV, too much reading, and must not give in to distractions that pull me away from listening and observing the journaling that my spirit constantly engages in whether I pay attention to it or not. Once I'm in touch with the silence within, I can easily get the goodies-- pretty much like Jack of the beanstalk story who steals the golden eggs while the giant sleeps!
As I promised during the launching of
Humming In My Universe
, my first book, I would like to write twenty books in my lifetime. That's a lot of sitting!